THE HUEMMER HOME TEAM HOME STAGING TIPS
The Huemmer Home Team has an an Accredited Staging Professional, specializing in setting up your home to maximize it's selling potential. The National Association of Realtors provides the following statistics based on a 2019 survey regarding Home Staging.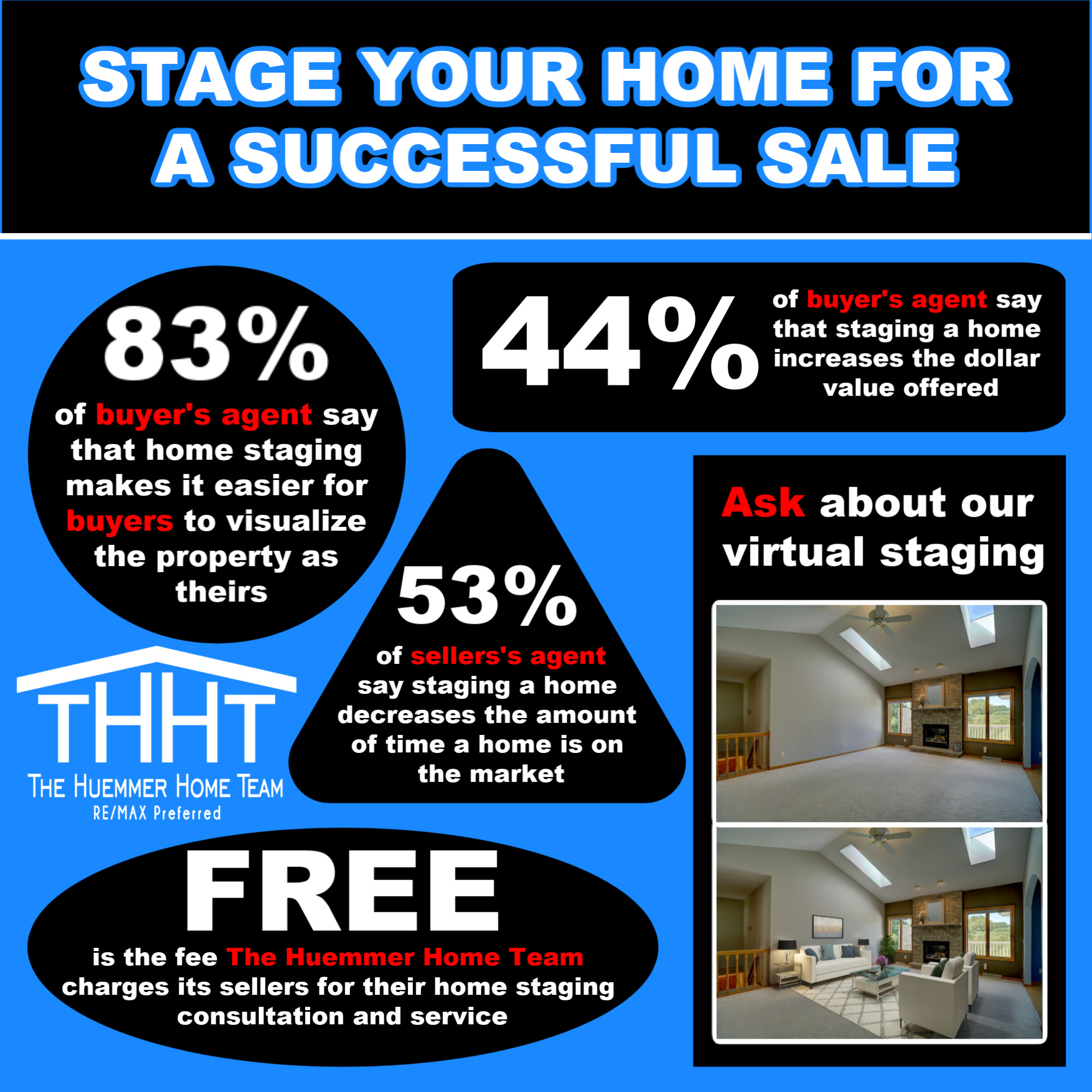 Selling your home is more than just signing a listing contract with a Realtor. You want your home to look its absolute best for any potential buyers that view the property.
Here's our Top 5 Home Staging Tips:
1. The Big D's, Declutter & Depersonalize
Declutter means less to clean, less to organize, less stress and less time it takes you to get your house ready for a showing. The less clutter in the room, the bigger it will look and more appealing to a potential buyer. Clean off all counter-tops, above cabinets, remove items on and attached to refrigerator and closet floors & top shelf plus you may be advised to remove some furniture. Then you need to depersonalize the home so a potential buyer see themselves in the space and not you. Remove family photos, artwork on the fridge, any religious or political indications and collections of all sorts. You have to take your personal touch out of the home and let the buyer view a neutral canvas. Top secret tip - remove anything smaller than a bowling ball.
2. Clean, Clean, Clean
Your home should be the cleanest its ever been for the listing photos and first week on the market. That means from the floors, vents & baseboards to the ceiling corners. Once the home is decluttered, you may have to repair holes, scratches and any imperfections that were hidden by the clutter. You will also have to clean inside drawers, entire refrigerator, both sides of the blinds and especially the grout on tiled flooring. A little TLC can go a long way when it comes to a buyer viewing your property for the first time. A deep clean should remove any odors and proof of pets; don't use air fresheners or candles.
3. Bring Out The Brightness
Clean windows and open blinds will help let the light in. Also turning on all the lights for showings will make the space feel brighter and more open. So you have to change all the light bulbs not working and permanently open curtains to do so. This will also help the buyer's agent and potential buyer from having to find the lighting source in a dark room. Make sure to paint any dark walls and rooms with neutral color like white, grey or tan.
4. Rearrange Furniture and Add Freshness
You want to make sure the rooms are as open as possible. You also want to make sure that the spaces are walkable so the potential buyers can navigate the space more easily. Get ride of any over-sized furniture, damaged pieces and items that don't match. If you don't have plants or flowers, get some. Placing a vase full of flowers on the kitchen table can add a fresh feel to the space quickly.
5. Focus On The Biggest Impact
The most important spaces to stage are the living room, kitchen and master bedroom. Potential buyers will focus more on these spaces when they tour homes. If you're tight on time and funds for improvements, simply stage these rooms. This will have the greatest impact and influence on the buyer's interest in your property.
Staging a home doesn't require you to spend a lot of money or any money at all, just time and effort really.
The Huemmer Home Team
has a staging room full of light staging materials to eliminate the need to purchase items just for the sale. We offer a staging consultation and staging material
absolutely for FREE
. We provide you with staging suggestions and will bring any items needed prior to the listing photos being taken. Once the work is done, your home will show in its greatest glory and will invite buyers to enjoy the showing. And remember if your home is empty or vacant, we do
virtual staging for FREE
too.
Call
Amber Huemmer
, with
The Huemmer Home Team
, to schedule your staging consultation today.
Amber Huemmer
The Huemmer Home Team
RE/MAX Preferred
608-279-5424
amber@thhtrealty.com
The Huemmer Home Team is in the Top 1% for residential real estate sales in the Madison Area.