Monday, October 5, 2020 / by Ryan Huemmer
October Home Maintenance Checklist
Clean Your Dryer Vents
This is usually overlooked but extremely dangerous. Excess lint can dramatically increase the likelihood of a fire.
Leaf Removal And Lawn Prep
Winter is coming, mid-to-late October will be the last mow of the season. You'll want to help ready your lawn for the long winter ahead with a shorter than normal cut length and removal all leaves.
Change Direction Of Ceiling Fans
Changing your ceiling fan to go clockwise, you can save money on your utility bills. On most fans, allow you to switch the setting between clockwise and counterclockwise.
Vacuum Baseboard Heaters and Heating Grates
Vacuuming up dust from baseboard heaters and heating grates will be beneficial as you begin to heat your home.
Clean Refrigerator
Remove dust, pet hair and cobwebs that catch in the coils located under and behind your refrigerator. Clogged coils can cause the compressor failure and require and shortening the life of your refrigerator.
Replace Air Filter
The air filter on your Heat and Air Conditioning system needs to be replaced regularly to keep the air in your home clean and flowing freely through the space.
Clean Out The Fireplace.
Wood-burning fireplaces require a professional chimney sweep annually to inspect and remove creosote inside the chimney. A hires professional can also inspect the outside of the chimney to make sure everything is in good working order.
Store Outdoor Furniture
Your outdoor summer furniture will look much nicer next spring if you take the time to clean them and store them properly over the winter.
Drain Garden Hoses and Winterize Outdoor Faucets
Before the temps dip into the below freezing levels, you'll want to winterize your exterior faucets and drain the water from your garden hoses.
Deep Clean The Oven
Before the heavy baking season begins, deep clean your oven. Most ovens come with a self-clean mode.

Ask about our Monthly Home Maintenance Postcard: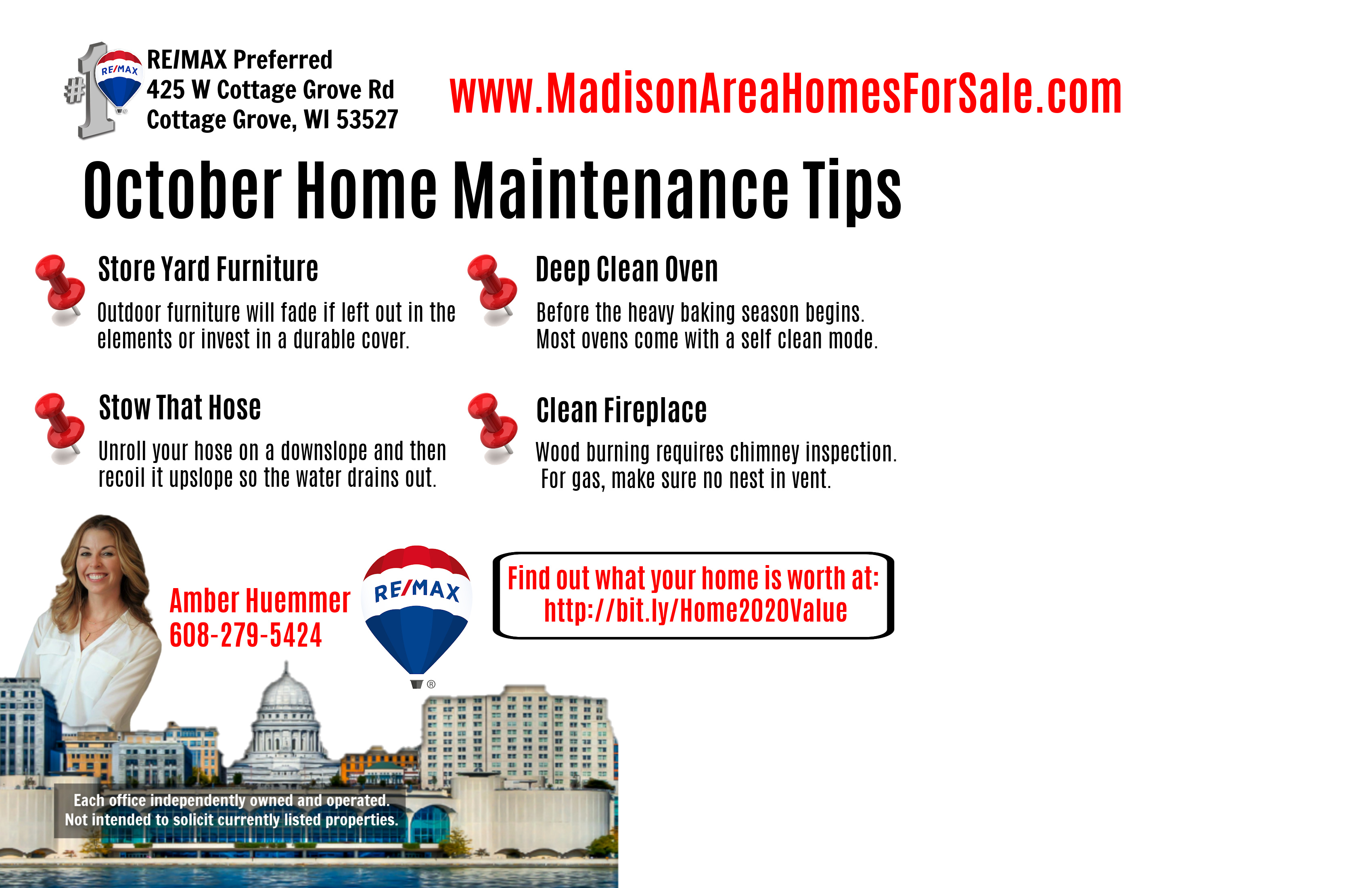 ---